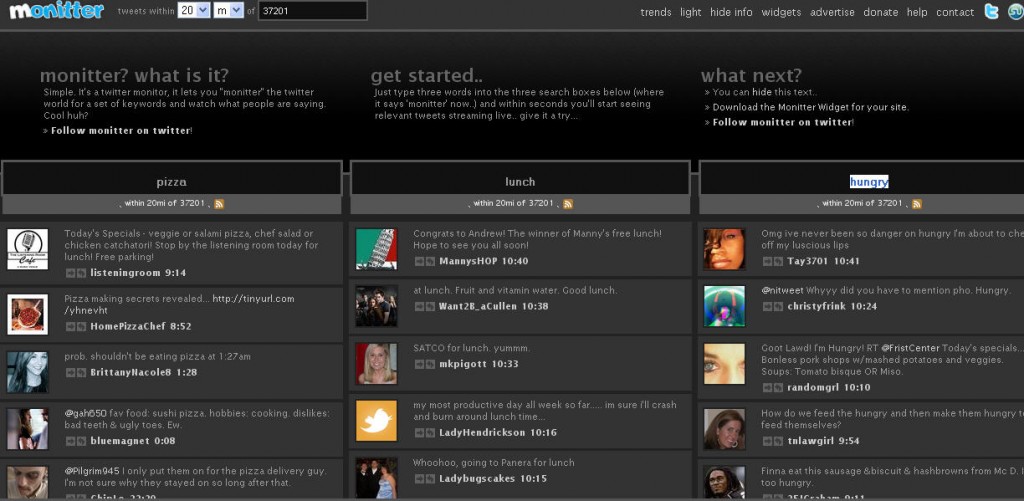 As social media has taken off in recent years, it's been a boon for smart companies that are using these tools to connect with online customers. But for smaller businesses, especially retailers that rely on a local customer-base, social media hasn't always shown quite as much promise.
But thanks to tools like Monitter.com, that could be changing.  Monitter.com is a location-based monitoring system that tells you what people on Twitter are tweeting about right now.  You put in the zip code you want to pull tweets from, and how far away you want to go, then the phrases you want to search for.  Let's say you are an Italian restaurant in Nashville.  In the above screen shot, I put in the 37201 area code, and am pulling tweets for people using the words 'pizza', 'hungry', and 'lunch'.  So if you tweet about any of those words, and you're within 20 miles of the Nashville zip code 37201, I'll see your tweet.
As you can see, this holds enormous potential for a local business to use Twitter to connect with some new customers.  Let's say I own Tony's Pizzeria, and I'm using Monitter.com right now (an hour or so till lunchtime) to scan Twitter.  What if I see the following tweets:
'Everyone in the office is hungry for pizza but no one near us delivers!  Now what?'
'Ugh, had McDonalds for breakfast, mexican yesterday.  Want something different, any ideas?'
'At Olive Garden and they are PACKED!  Quick Twitter, what's another Italian place that has room for a party of 8?'
If I were Tony, I could quickly use Twitter to connect with dozens of potential lunchtime customers, just by scanning tweets with Monitter.  And in setting up those searches for this post, I've noticed that a couple of pizza businesses in the 37201 zip code are already active on Twitter.
What other ways could a local business use this?  What about car dealers scanning for people interested in buying a new car, or even for helping out customers that are having a problem with their car (How impressive would it be if I tweeted that my Acura just died on the highway, then a few mins later a mechanic from the local Acura dealer showed up to help? You better best believe all of my 11K followers would have read me tweeting about how amazing that Acura dealer was!)
The possibilities are endless, and I think that Monitter.com is a great FREE tool that really benefits local businesses, and helps them connect with LOCAL customers!  If your business is using Monitter, what have been your results?
Want to read more about how you can better use Twitter?  Check out my Social Media Library.  Ready to get started using Twitter to build your business?  Email me to hear more about how I can help your business get its Twitter and Social Media efforts off the ground!