So here we go again. For those of you that were tired of hearing the hype over blogging and Facebook, now every business on the planet is buzzing about the potential of Twitter. But before you jump headlong into this vast cyber pool, here are ten steps you should follow to ensure that you maximize your efforts on Twitter.
1 – Decide IF you should be active on Twitter. As with any social media strategy, your decision should be founded on actual business benefits, not on hype. Why are you wanting to use Twitter? For what purpose? What research have you done to support your decision? The point is, if I ask you why you want to be on Twitter, you should be able to answer with something other than 'cause everyone is talking about it'.
2 – Decide who will be on Twitter. How many employees do you have that can be on Twitter representing your company? How many people do you have that WANT to be on Twitter? Do you have an employee that's currently interacting with customers on Facebook, but who is addicted to Twitter? Maybe you should move her over to the site.
3 – Start monitoring Twitter NOW. Seriously even if you won't be using Twitter, you MUST know what people are saying about you, your company, your competitors, and your industry on the site. Last week in Boston at the B2B Forum I met with one company and we looked at what people were saying about them on Twitter. We found that someone had criticized them on Twitter, and asked if there was a better alternative. A competitor saw that tweet (Because they were monitoring), and swooped in and replied and started a dialogue with the person. Opportunity lost.
All you have to do is go to the Search page on Twitter, and search for all the relevant terms and then subscribe to those results. That way as soon as someone mentions any of the terms you are tracking, you will know about it, and if you are on Twitter, then you can reach out to them. But you can't do that until you start monitoring what is being said.  And if you are monitoring, you can better track how sentiment on Twitter about your company changes, as you participate.  Which can be great to show your skeptical boss when she asks if 'that Twitter stuff is working'.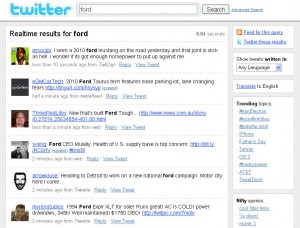 4 – Have a specific goal for your Twitter usage. Why are you on Twitter, what's your end goal?  Do you want to increase awareness of your company?  Do you want to improve customer perception?  Leverage Twitter as a customer service channel?  Figure out what your end goal is, then you can work backwards and use Twitter in a way that helps you meet those end goals.  Once again, if you are trying to sell your boss on why you should be on Twitter, having a plan in place that justifies your time and resources is a good thing.
5 – Don't be a logo, be a person.  So many businesses have multiple employees on Twitter, and for each account, they use their company logo.  I think that's a mistake.  Twitter is a social site, and part of being social means people connecting with people.  So remember this, and make sure everyone knows who the PERSON behind the account is.  Now you can still incorporate your company branding into your Twitter profile, and even your avatar.  Note how Eric Brown of Urbane Apartments uses the company logo in his avatar, and also shows his picture.  Scott Monty also does a nice job of incorporating the Ford logo into his avatar.  The bottom line is that having a real picture of yourself definitely makes others feel more comfortable about interacting with you.  And more interaction is a good thing to have on Twitter.
6 – If you have multiple employees on Twitter, decide who handles what.  Let's say you have 5 employees on Twitter, and you find a tweet concerning a complaint from a customer.  Should your product manager respond, or alert your customer service manager to the complaint, so she can address it?  You want employees on Twitter that are familiar with your company's products and services, and ones that are adept at handling customer service issues that they will encounter on Twitter.
7 -Measure your efforts from the start.  It doesn't matter what you want to measure, but somehow bake accountability into your efforts on Twitter.  If you want to track followers, replies, emails, whatever, track something, and watch how this changes over time.  Many retail businesses are giving discount codes to customers on Twitter, which they can use when they buy something in the store.  That's a great way to track sales activity from Twitter.  Track the changes and match them to how you are using Twitter.  And if you later decide you are measuring the wrong things, then scrap it and start over.  But the point is, track and measure your efforts.  If the boss comes to you and wants to see the results from your being on Twitter, you better be able to show him some numbers and give an explanation for why those numbers matter.  Saying 'it's about the conversation' isn't going to cut it with a boss that doesn't get 'all this social media hooey' to begin with.
8 – Fill out your profile. Yes this matters.  Yes I want to know what your real name is.  No I do NOT want to see a picture of your dog. I want to see a picture of YOU.  Let me know who you are and what you do in 140-ish characters.  You can even get creative and add more information about you/your business by adding a custom background.
9 – Talk like a person, not a company.  Ditch corporate-speak at the door.  Twitter is a conversational tool, so tweet as if you are an active participant in an ongoing conversation.  Be willing to share your personal opinions, but also be mindful of how your opinions reflect on the image of the company you work for.  Just remember that it's easier for us to connect with and trust other people, than it is a faceless company.
10 – Don't be overly self-promotional.  Consider your time spent on Twitter as a bank account.  Think of any self-promotion you do as being a draw on your account, a withdrawl.  So in order to balance out that withdrawal, you need to make deposits.  You need to share other information that will be valuable to the people you follow and want to connect with on Twitter.  For example, you better believe that I promote EVERY new blog post I write (many of you probably found this by seeing my tweet on Twitter) on Twitter.  But I also promote any other interesting post I find.  The end result is that for every 10-20 links I share on Twitter, only ONE of them is a link to a post I have written.
A side benefit to this practice is that the other people I promote are thankful for my doing so, so they are more likely to read this blog, to follow me on Twitter, and to promote MY content.  So approach your time spent on Twitter as being a bank account, you have to make deposits to cover your withdrawals.
Extra-credit:
11 – Be a spy.  As part of the monitoring that you started doing in Step 3, watch how your competitors, and other businesses are using Twitter.  See what is working for them, and alter your efforts accordingly.  In sales there's a popular acronym ABC (Always Be Closing).  For social media that could be ABL (Always Be Learning).  There is always a better way to use these tools, so don't be afraid to change your efforts if you think it will improve your end result.  The true social media experts are the people that are constantly tinkering with their efforts and trying to improve the processes.
If you need more help on utilizing Twitter, check out the Social Media Libary for more articles.  And if you need help getting started with using Twitter, feel free to email me at mackDOTcollierATgmailDOTcom