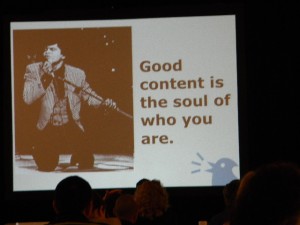 Last month I published a post letting everyone know that I was ready to explore my options when it comes to working with a company full-time to help with their content, digital and social marketing strategies.  In the last several weeks, I've talked to a lot of companies and I consistently heard two things:
1 – "We'd love to hire you, but we can't afford your salary right now."
2 – "We don't have a position open, but what we really need right now is some help with our content and bringing our strategy into focus."
According to Glassdoor.com, the current salary for a Content Strategist is $72,258 a year in the US.  For a Director of Content, that jumps to 6-figures.  So depending on your needs, that can mean anywhere from $6-10K a month.  A big expense, but on the flipside it's a necessary expense if your business wants to be competitive in marketplaces where customers are increasingly using brand-generated content as a factor in purchase decisions.
This got me thinking; Is there a service I could offer that would give clients the help they need with content creation, focus and strategy, at a price they can afford, and also at a price that makes sense for me and that fits my available bandwidth?  I think I've come up with a solution that will help us both.
Hire Me to Be Your Content Strategist!  For six months, I will be your resident Content Strategy Expert, first performing an audit of your existing content strategy, then spending six months working with your team to help you create amazing content that helps you reach your business goals.  I'll work with your team to not only improve your existing content creation efforts, but I'll also edit and oversee your content creation so that your efforts are as effective and efficient as possible.
The best part? The price, of course!  You can hire me to be your Content Strategist for only $28,000!  
Here's how it works:  The first month, I will work on a Content Strategy Audit for your company (I charge $7,500.00 for this service separately).  After the Content Strategy Audit is done, for the next 6 months I'll be your Content Strategist!
I'll work with your content team to execute any recommendations I find with the Content Strategy audit on how to improve your content strategy and creation efforts.
I will edit all the content your team creates for the next six months, including structure and headlines, so that it more effectively communicates with your target audience.
All the content you create for your blog and website will be optimized for search engines so that your content ranks better for specific terms that are important to your business.
I'll help you create an editorial calendar so you can get a handle on your content creation schedule.
I won't create original content for your company, but I will work with your content team to edit any content they create, and streamline your entire content creation process so you can create more content, and more effective content, in less time.
You get all that for less than half of the average salary of $72K a year for a Content Strategist!  Honestly, this level of service is closer to a Director of Content, which is a senior-level position.  So the value of the service you will be getting at this price point is clear to see.
If you want more information on this service, click here, and if you want to have me be your Content Strategist for just $28,000.00, email me!  Obviously, this service is a first-come, first-served offering, so please email me immediately if you have interest.