Social Media Training and Workshops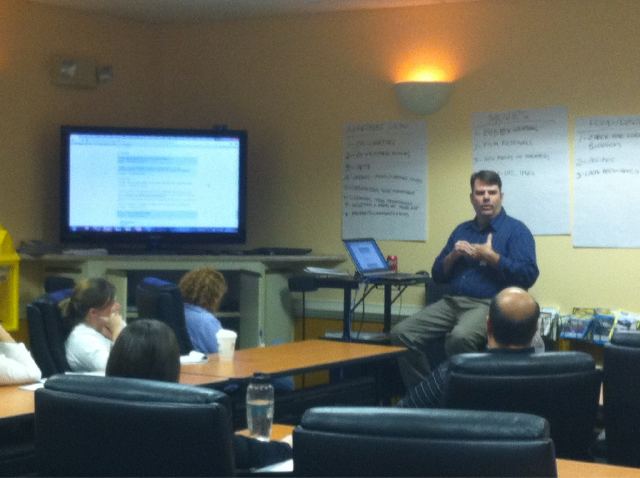 As I speak at conferences and industry events across the country, I often meet people that have been sent to the event by their company to learn more about social media.  What usually happens is this person comes to the event, takes copious notes, then goes back to the office and tries to explain and decipher the notes to the social media team, in the hopes that the team will be better equipped to handle its social media efforts moving forward.  The costs to the company for ONE employee to attend a solid social media conference would be at least $1,500.00 and could easily balloon a few thousand dollars for the more expensive conferences.  Plus the employee will miss 2-4 days of work, putting the whole team behind.
There HAS to be a better way.
For about the same costs to send one employee to a social media conference, this company could have hired me to speak directly to its social media team.  This would have allowed this company to not only have a curriculum of social media content targeted to its EXACT NEEDS, but I could have taught up to 100 employees at once.
So you could either spend a few thousand to send ONE employee to a social media conference where half the sessions won't help you, or you could spend the same amount to hire me to speak to up to 100 of your employees on content that is targeted to your exact social media needs.  Additionally, I can work with each of your employees to help them with individual issues they have concerning understanding and executing social media strategies for their company.
The improvements in effectiveness and efficiency that your team will enjoy from my social media training make the cost a bargain which will easily pay for itself.  Here's what a couple of my recent training clients have said about the time I spent with them:
"Mack's expertise in social media is widely known & respected. When we invited him to help facilitate a customer event, we knew that his integrity, reputation, commitment to his customers, & knowledge would make for a great partnership. We were right. Our customers trusted him to be fair, honest, but also ask the tough questions. Our event was a success & we continue to value to his ideas about building stronger customer relationships." – Michelle Brigman, Social Media Operations Sr. Mgr at Dell, Inc.
"Mack is an unusual talent in social media consulting circles since he spends a considerable amount of time understanding our unique business goals, internal systems, and unique challenges before designing programs that leverage his expertise.  He also has the ability to connect with our teams in ways that gives him credibility beyond his credentials.  Our experience working with Mack has been useful and we continue to work together as our needs become even more complex and nuanced." –  Adam Japko, President, Digital Sherpa, Network Communications Inc.
Here's Mack moderating Dell's #DellCAP Customer Advocacy event at Dell's World HQ in Austin, Texas:

So What Type of Social Media Training Do I Provide?
That really depends on your company's exact needs.  I don't sell you a 'program', you tell me the exact areas you need help with, then we decide together what I should cover.  Here's some examples of possible areas you may need help with:
–          Creating a strategy to drive your efforts
–          Measuring your existing efforts to better gauge effectiveness
–          Building engagement and interaction with customers via social media
–          Content creation
–          Using social media to drive sales
–          Using social media to build awareness of your company
The topics covered can be tool-specific (Blog, Twitter, Facebook, etc) or concept-specific (How do we improve our measurement, how do we get more comments on our blog, etc).  The length of the training can be as short as 1-hour, or as long as 2-days.  Additionally, half and full-day training sessions are available.  The content covered and the length of the sessions will be completely tailored to your needs, and discounts are available for full-day workshops.
For example, let's say your B2C company is actively using a blog and Twitter as channels to connect with customers.  Our training schedule could look something like this:
8:30 – 9:30 am – Overview of existing social media strategy. Examine what the company is currently doing with social media, and what it is attempting to accomplish with its social media strategy.
9:45 – 10:45 am – Blog: Content creation training – Helping writers create more compelling content that will help them connect with customers and achieve the blog's larger goals.
11:00 – 12:00pm – Blog: Building engagement training – Helping writers learn how to build more engagement on the blog, but also engagement that ties back to the larger goals for the blog (increasing sales, building awareness).
12:00 – 1:00pm – Lunch
1:00 – 2:00pm – Blog: Analytics – How to track and measure your existing efforts in order to gauge effectiveness, and find areas to improve upon.
2:15 – 3:15pm – Twitter: Training on using Twitter as a Customer Service channel, and how to internally act on feedback from customers on Twitter.
3:30 – 4:15pm – Using Twitter and the Company Blog together.
4:30 – 5:00pm – Wrap-up and next steps. Overview of what has been covered today, and also examine opportunities for using additional tools and tactics or for shifts in existing strategy.
As you can see, the above is a day-long training schedule that is tailored to cover the exact social media areas that this company needs help with, and the company's entire social media team would receive help.  The value of this approach versus sending one employee to a social media conference is obvious.
If you would like to learn more about how you could hire me to provide custom social media training for your company or organization, please email me.
Pic via Charity Hisle